Linda Barker Multipanels Collection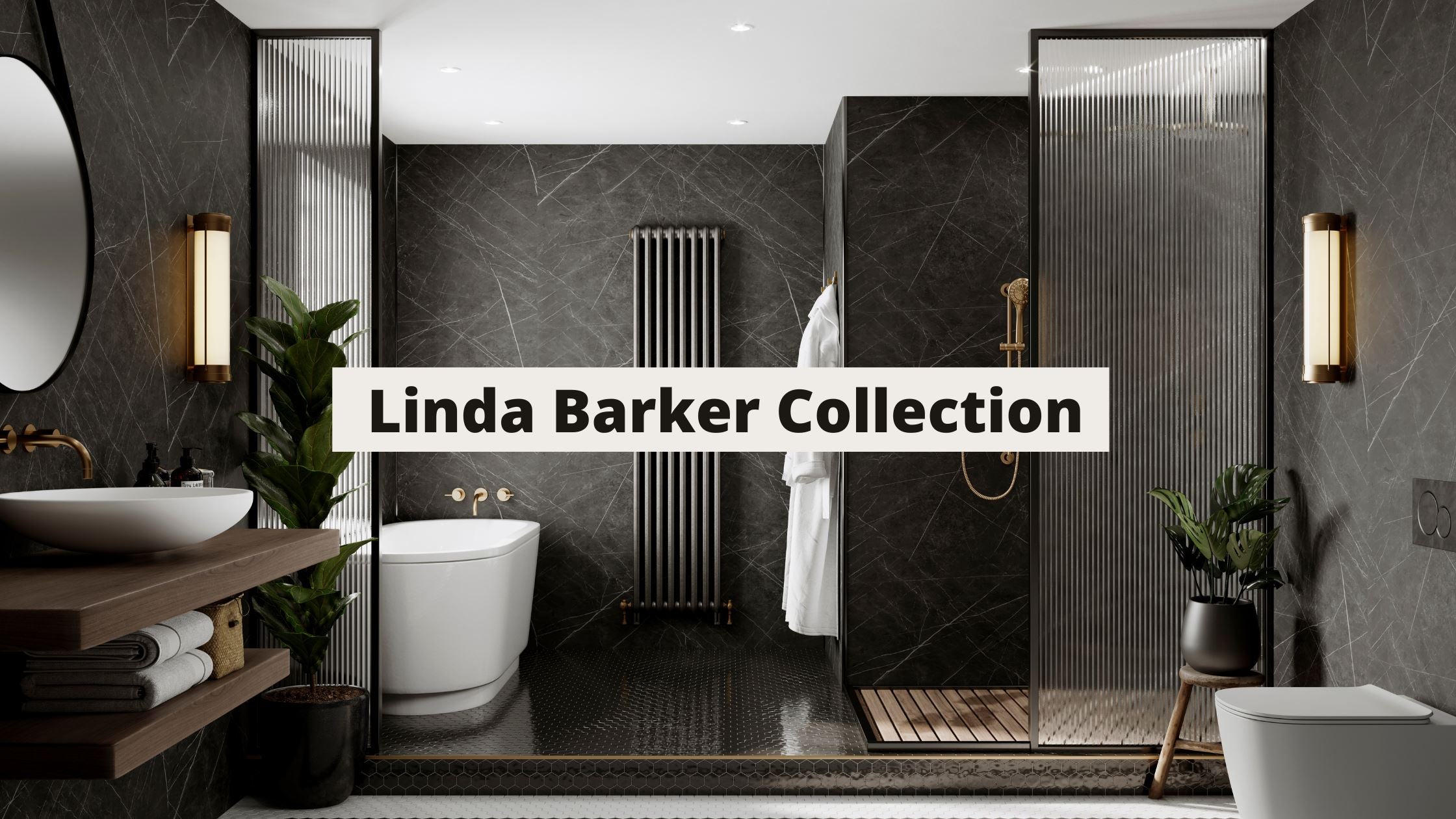 Curated by one of the UK's most well-known and respected interior designers, the Linda Barker collection is inspired by materials from the natural world and emulates bathroom trends seen in designer hotels and spas but with a more realistic price tag. Keep reading to explore the full collection of bathroom wall panels which features a range of effects and trendy, eye-catching designs.
Marble effect
Designed to emulate the look and feel of real slabs or marble, make a strong statement with the Calacatta Marble. Marble interiors are right on trend this year and this marble effect wall panel will give your bathroom an elegant and modern look. Pair the Calacatta Marble with Riven Slate from the Classics Collection to make a stunning contrast that will give your bathroom an elegant, sophisticated look.
Stone effect
The neutral and grey tones in the Stone Elements Multipanel are hugely popular in todays home interior market. If you are looking to achieve a simple, minimalistic bathroom interior with a subtle statement wall, then Stone Elements is the perfect choice. The soft and warm colours in the Stone Elements work well paired with Creamy White or Pebble Grey from the Neutrals Collection.
Metallic effect
Love the modern industrial look? Add a rustic touch to your bathroom interior with Corten Elements Multipanel from the Linda Barker collection. The rusty colours are perfect for creating a dramatic and eye-catching look that is still easy on the eye and relaxing to look at. Try pairing with Clay from the Neutrals Collection to create a harmonious interior in your space.
Concrete effect
Again, if you love that modern industrial look in home interiors but are looking for a something slightly more muted and understated, then the Concrete Elements Multipanel is ideal. The ultra textured finish is designed to emulate the look and feel of real slabs of concrete without the mess of grout or cement. You can use Concrete Elements in your whole bathroom or simply create a string feature wall or shower enclosure with it. The ashy, cool tones will beautifully compliment neutral interiors and black accent colours in your bathroom.
Wood effect
Create a modern country look with a rustic, industrial touch with the Salvaged Plank Multipanel. By replicating natural elements, the softly weathered wood effect will transform your space into a place of tranquility and create a warm and welcoming environment in your bathroom. The Salvaged Plank Elm beautifully compliments natural interiors and will work really well with Parchment from the Neutrals Collection.
Graphite effect
With the Nero Graphite Multipanel, you are guaranteed to add a touch of elegance and sophistication to your bathroom. Designed to emulate real slabs of black marble, the dark wall panel will add depth and drama to your space, creating a sense of luxury and exclusivity. Try paring with Dove Grey from the Neutrals Collection and gold accent colours to really make an impact. 
So what are you waiting for? With a huge range of effects, textures and designs, explore the full Linda Barker Multipanel Collection here and transform your bathroom into a modern and elegant space.
Shop our full range of Multipanels NOW!