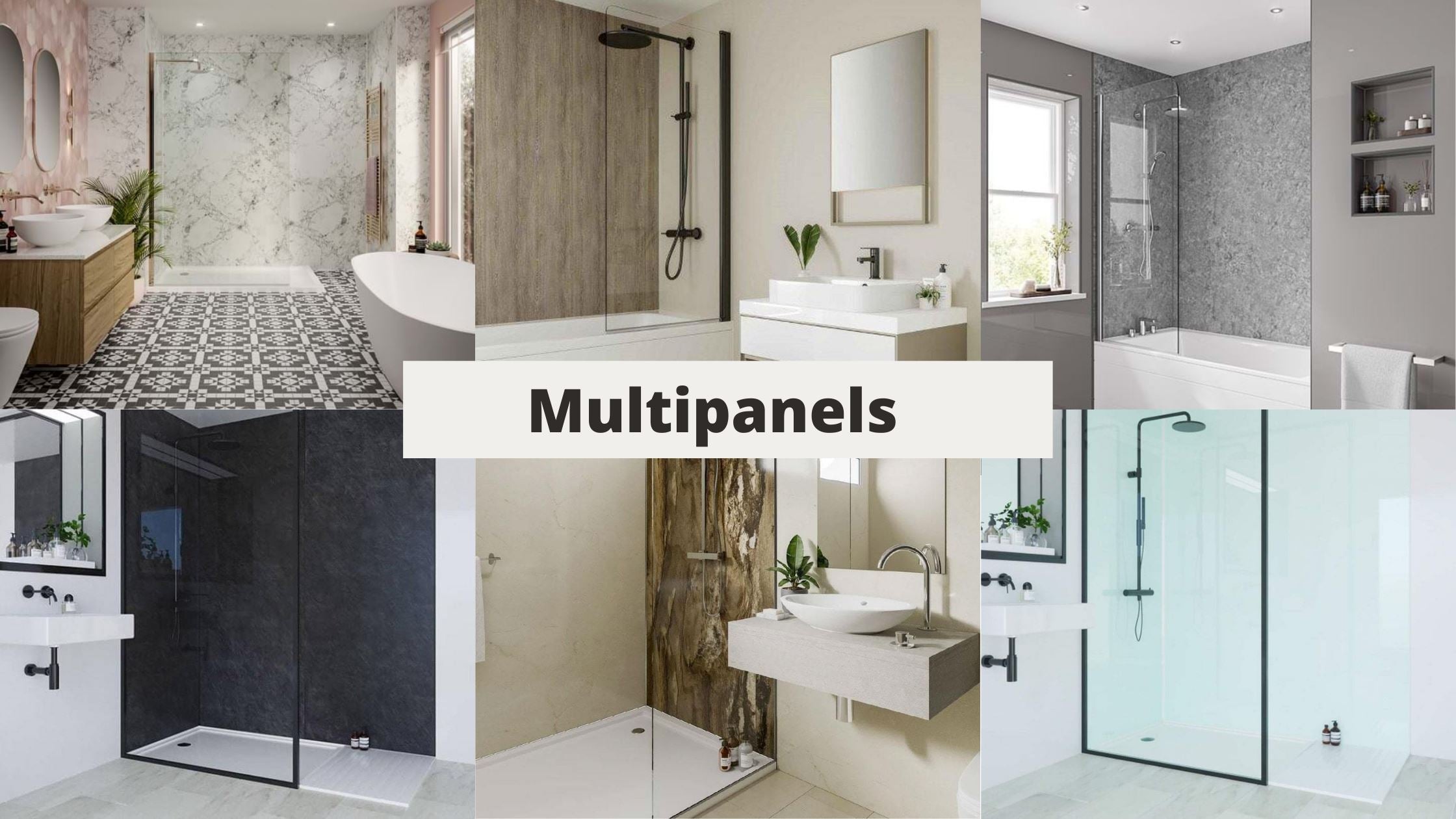 Deciding which type of wet wall panels to go with when renovating a bathroom can be tricky, and the choices are endless. Introducing Multipanel, the luxurious and modern way to decorate your bathroom!
These waterproof bathroom wall panels are the perfect solution for creating a beautiful and elegant space, without stretching the purse strings. With six collections featuring a wide range of sizes, colours, and finishes, the choices are endless! The seamless joints in these wall panels means you can mix and match different collections to create your dream bathroom. Along with being 100% waterproof and recyclable, Multipanels are easy to keep clean and quick and easy to install.
From rustic stone and authentic wood to glossy polished marble, explore our full range of Multipanels and the unique offerings of each collection.
1. Linda Barker Collection 

Make your bathroom look and feel like you've escaped to a designer hotel with our Linda Barker Collection. Curated by one of the UK's most well-known and respected interior designers, The collection is inspired by material from the natural world and emulates bathroom trends seen in designer hotels and spas but with a more realistic price tag. Featuring trendy bold and beautiful designs, the Linda Barker Collection includes stunning feature wall panels which would work perfectly with simple and neutral tones from the Neutrals or Classics Collections.
Inspired by traditional carrara marble, the Bianca Luna emulates real slabs of marble and would make a striking and elegant feature in any bathroom. The contrast against the pink in this bathroom is stunning and gives the bathroom a chic, contemporary and luxurious look.
2. Classics Collection 
If you are looking for something simple and understated, whilst still making an impact, then our Classics Collection is the perfect choice. Featuring a wide range of colours, textures and finishes to suit any bathroom interior, the Classic Collection includes something for everyone! Don't forget you can mix and match Multipanels to achieve the perfect look.
If you are looking for a striking black wall panel to make a statement in your bathroom, the Riven Slate Multipanel is guaranteed to add depth and drama to your space. The highly textured matt finish replicates the look and feel of real slabs of slate, which will create a feeling of luxury and sophistication in your bathroom.
3. Neutrals Collection
Minimalism is hugely popular in interior design in 2021. Not only is it really stylish, but clean spaces tend to reinforce our happiness and lift the mood. The delicate and beautiful neutral tones featured in the Neutrals Collection are ideal for creating a stunning minimalistic bathroom interior. These wall panels have a smooth eggshell finish reminiscent of painted walls, creating an authentic and traditional looking interior with a modern twist. If minimalism isn't your thing, The Neutral Collection are designed to pair perfectly with panels from the other collections. This allows you to create unique, striking feature walls, giving you complete freedom to customise your dream bathroom design.
The creamy white pictured below is a beautiful, simple and elegant wall pale that will perfectly compliment a number of panels from the Linda Barker, Classic and Economy Collections.
4. Reflect Collection
Made from dual layered acrylic, the Reflect Collection will create a sleek, minimalist look in your bathroom. The illusion of real glass creates stunning depth and is guaranteed to add a sense of luxury to any bathroom. With a super gloss finish, these wall panels are easy to keep clean and are an ideal alternative to back-coloured glass. The collection is the smallest of all Multipanel collections, featuring 3 contemporary shades, but it is certainly quality over quantity in this case.
The Aqua Gloss will add a subtle splash of blue in your bathroom and create a sense of peace in your bathroom. The light aqua colour is ideal for a modern bathroom and will give your interior a fresh and polished look.
5. Economy Collection 
If you are looking for a cost-effective alternative to our other Multipanel Collections, then the Economy Collection is the perfect choice for you. The Economy Collection includes a range of colours and finishes such as concrete and marble which will help you transform your bathroom space without stretching the purse strings too much. These stylish and practical PVC wall panels will complete your interior and give your bathroom a fresh, modern look
The Urban Concrete Grey will give your bathroom a contemporary, industrial look whilst adding a rustic touch. Make an impact and create a striking feature wall with the Urban Concrete Grey which will work perfectly with Dove Grey or Pebble Grey from the Neutrals Collection.
With a huge range of collections to explore, what are you waiting for? Explore our full range of Multipanels here and transform your bathroom interior into a beautiful and modern space.