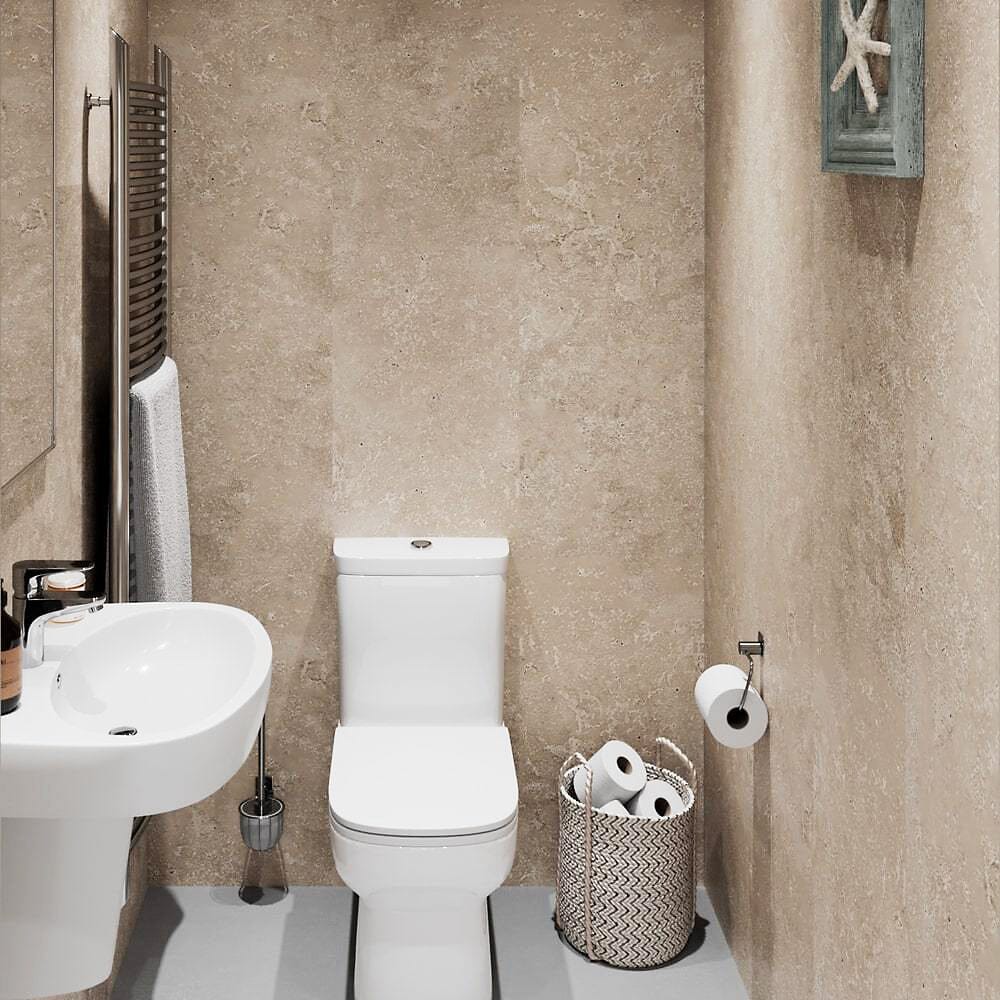 It's hard to know where to start when renovating a bathroom that's on the smaller side, but we're here to help. Our wet wall panels come in a range of sizes, which makes them ideal for bathrooms of all shapes and sizes. When selecting wall panels for smaller bathrooms, there are a couple of things to think about. Here are our top tips to make the most out of your space.
1. Stick to light colours 
When selecting wall panels for a small bathroom, try sticking to lighter colours. The light colours on the wall will reflect the light in your bathroom to give a larger feel to the room and create a sense of depth. You could also contrast this with a dark wall which will help create a sense of depth in your bathroom. 
Our Contempo Formia Tile Effect wall panels will add a touch of elegance and style to your small bathroom. The gloss finish will illuminate light and help create a bright and welcoming atmosphere. Try pairing with natural woods to create a simple and minimalistic interior and add a splash of colour with a small house plant in your bathroom. 
2. Add textures 
Whilst the obvious choice would be to make your whole bathroom bright white, this can result in the space feeling cold and empty rather than minimal. To create a space you feel calm and relaxed in, try a neutral colour palette and use a variety of tonal colours to add interest and depth. The best way to decorate a small bathroom and add that depth is by creating different surface textures.
Our Stone Misty Kerradeco Premium Wall Panels are the ultimate in high quality premium textured designer wall panelling. The wall panel has lovely soft, warm tones that will help achieve that minimalistic and seamless look in your small bathroom. Kerradeco wall panels are perfect for smaller bathrooms. At only 295mm wide, the solid core wall panels are 100% waterproof and 100% recyclable. Explore our Kerradeco range here.
3. Create an accent wall 
If you would like to make an impact in your small bathroom, try using an accent wall panel on the back wall. If the other walls and flooring are kept simple, this design technique can create a sense of depth in your small bathroom.
Our Small Black Brick wall panel will add depth and drama to your bathroom interior. The popular brick effect wall panels provide a cost-effective alternative to tiles and require less maintenance. These wall panels are ideal for modern bathrooms and will add style to your small bathroom. Try the small black brick with the white gloss wall panels to create a stunning monochrome design.
4. Gloss finish 
The best way to create light and the illusion of space in a small bathroom is with light-reflective materials. Walls panels with a glossy surface finish are ideal for use in smaller bathrooms as they will reflect light and brighten up the space.
Our White Gloss Wall Panel Packs will instantly enhance the natural light in your bathroom space and add a beautiful shine. These wall panels are easy to install and even easier to keep clean, making them a great choice for a small simple bathroom.
We have a huge range of wall panels suitable for small bathrooms. Make the most out of your space with wet wall panels.