Ideas for Styling Marble Effect Wall Panels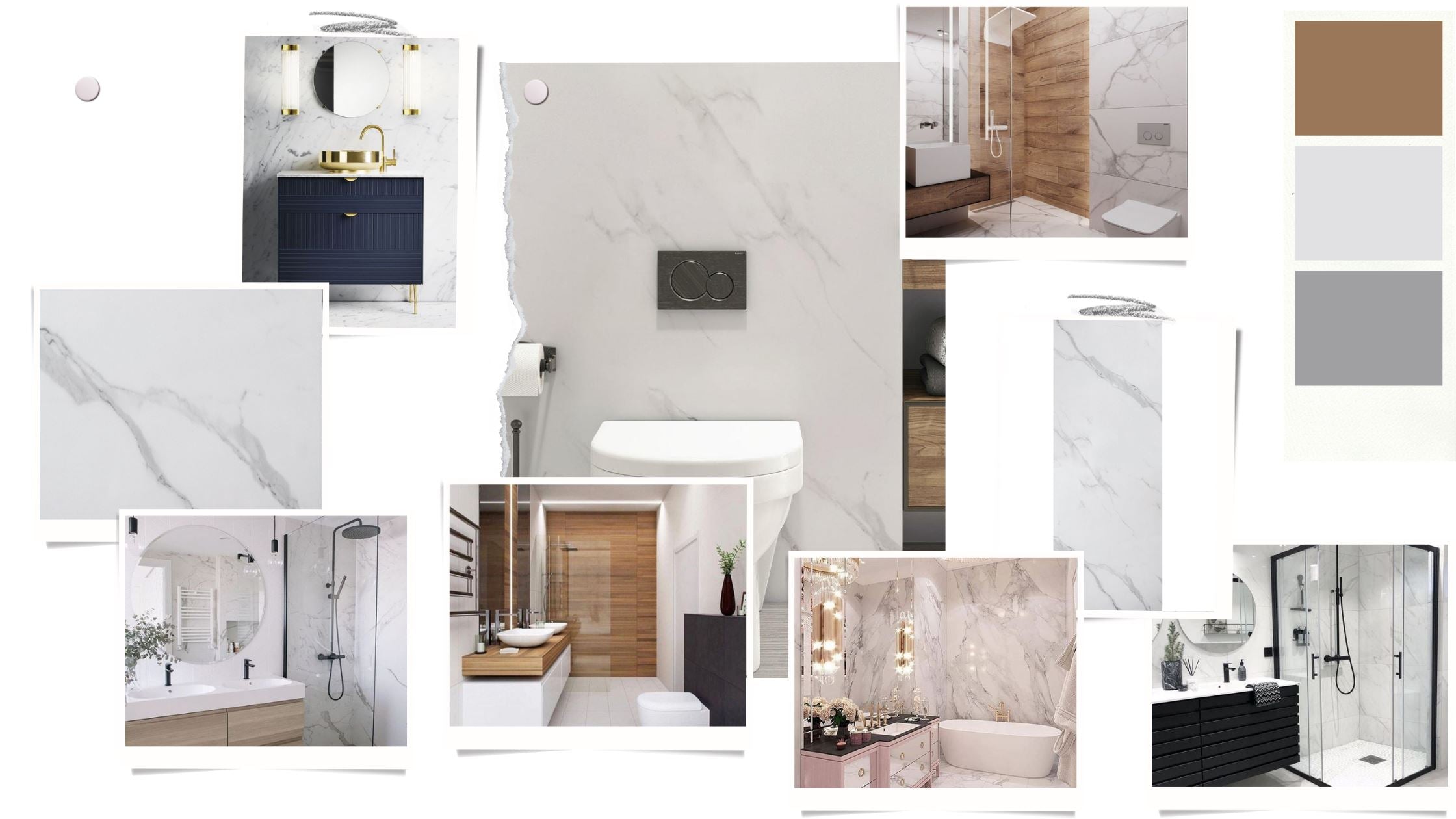 Our best selling Matt Carrara Marble is now back in-stock and is the marble effect wall covering that you have been looking for. The white marble wet wall panel features a natural and realistic marble effect that allows you to achieve the luxury look of marble, without the added cost or maintenance required.
The Matt Carrara Marble is available in 1m wide wall panel, making it ideal for bathrooms of all shapes and sizes. The versatility of these wall panels means they can be used in just about any room in your home, and are perfect for making a statement.
Keep reading to explore our styling ideas using the Matt Carrara Marble wet wall panel.
Marble and Wood Combinations
Combing natural materials is hugely popular in todays home interior market, with a greater focus on bring the outside in. The combination of misty veined marble and rich wood grains creates a sense of luxury and can really bring life to a modern apartment interior. Whether its in in your bathroom, kitchen or living area, this pairing is classic and timeless. If you are looking to create a simple, clean and minimalistic interior, try paring with the
 Natural White Gloss Classic Multipanel Wall Panel.
The bright white glossy wall panels will help enhance the natural light in the room and create a bright and welcoming atmosphere. 
Marble and Black Accents 
You really can't go wrong with a classic black and white interior. The look will never go out of style. If you are looking to create a statement marble effect wall, try pairing with the Riven Slate Classic Multipanel Wall Panel. The strong contrast between the white marble effect wall panels and black wall panels will complete your bathroom interior, giving it a luxurious and stylish look and feel.
Marble and Pink 
Pink interiors may not be everyones cup of tea, but but the right shade of pink can look sophisticated and glamorous whilst adding a fun and playful touch to your bathroom. Adding gold details will compliment the marble and pink and give your contemporary bathroom a traditional twist. 
Marble and Blue 
With hundreds of shades to choose from, you really are spoilt for choice when it comes to picking a blue colour for your interior. Not only is it extremely versatile but blue is also a really calming colour as it is emulates the colour of the sea and sky. Despite its cooler undertone, blue has a really soothing effect and is guaranteed to add a touch of serenity and create a spa-like feel in your bathroom. We love the contrast between the deep shades of blue and white marble.
If you love the Matt Carrara Marble Wall Panels as much as we do, why not explore our full range of marble effect wet walls? Transform your space with our marble effect bathroom wall panels and turn your bathroom into a modern, stylish and relaxing haven.