Mix and Match Wall Panels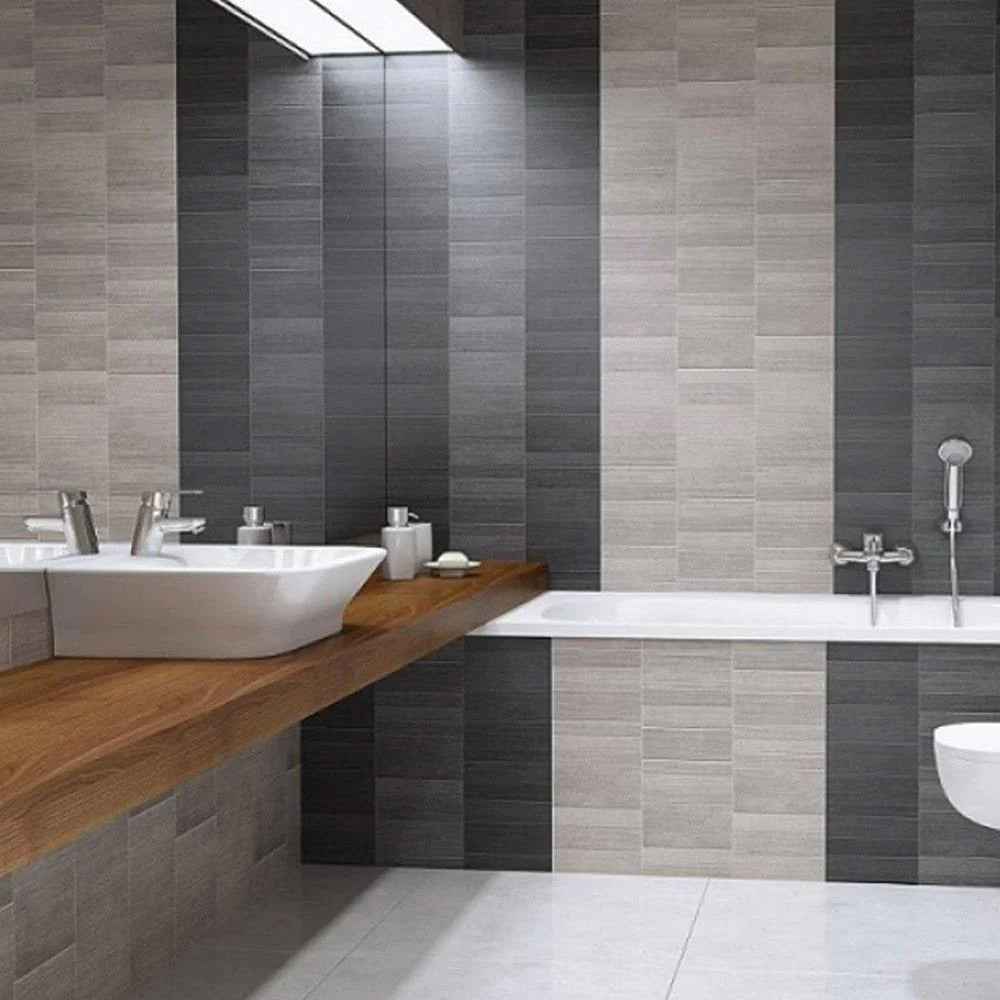 Can't decide between two different wall panels? No problem! With our range of 50cm wet wall panels, you can mix and match different colours, effects and finishes to achieve your desired look. Try contrasting colours or create a striking feature wall using tile effect panels alongside smooth panels. Not only will it be perfect for you, but it will also be a completely unique and one-of-kind interior. Our 500mm/50cm wet wall panels are practical and cost-effective as they can be used in either large or small bathrooms, wet wall areas and shower areas. 
Mixing materials and elements such as colour and effects in a room is also more important than you would think. Allowing yourself to mix and match fills a room with interest, depth and keeps it from looking flat and lifeless. It also gives you a little more flexibility if you want to change things or add things in the future as you aren't tied down to one particular colour or style.
If you are looking for some inspiration, here are some wall panelling ideas that involve pairing up different colours, effects and finishes from our 50cm wet wall panel collection.
If you wish to keep things simple, then these natural looking white wall panels will help you achieve a simple and minimalistic interior. The contrast between the smooth and tile effect will add an interesting dimension to your chosen space without being too bold and busy looking.
Grey and black bathrooms are extremely popular at the moment due to their clean, fresh and modern appearance. The tile effect on these wall panels will help create a seamless and sleek transition between the different wall panels, with the contrasting colours still keeping things interesting. Both wall panels have a matt finish which will add depth and interest to your space. Using both dark and light colours gives you the freedom and flexibility to change your bathroom look whenever you like as both colours will complement any interior and are extremely versatile.
We love a simple black and white interior. A timeless classic, you really can't go wrong. Both wall panels have a gloss finish which will enhance the natural light in your room. Use the Biella Tile Effect as a feature wall to really make an impact, with the Smooth Formia around the rest of the room. Using dark colours on the back wall will add depth to your space and create the illusion of a bigger room. 
Explore our full range of 500mm/50cm wet wall panels here and transform your bathroom into a beautiful space that you love.