Why Choose Tile Effect Wall Panels?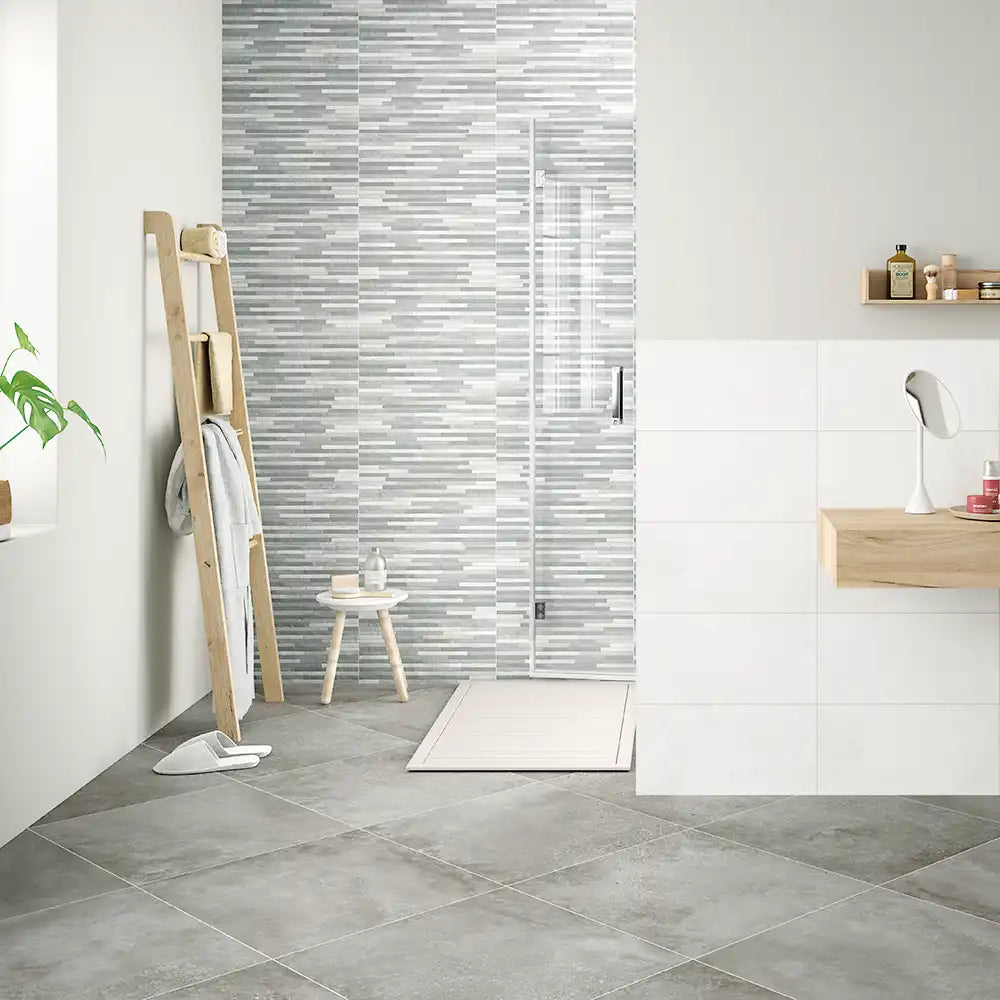 Tiling your bathroom and kitchen has been around for thousands of years, but with wall panels now on the market, customers have a great range of products to choose from - to suit all budgets and styles.
Tiling your space is expensive, from the materials to the installation process - there are various downsides to tiling. This is especially true if you are working to a budget or don't have a lot of experience or know-how to tile yourself.
This is where wet wall panels come in.
Tiling a space can cost on average around £50 per sqm for labour. That is before you consider the cost of the tiles themselves. Then there are additional costs, such as grout and adhesives - then the cost of preparing the walls - with either plastering or removing old tiles before the work is even carried out!
And the less said about the clean up the better.
But with Tile Effect Wall Panels, anyone with a good range of DIY skills can install them with the wet trades no longer needed. Adhesive or Silicone, trims, and panels - along with any tools needed - is all that you need to transform your space more cost effectively than tiling, in half the time, and with less mess.
Not everyone will make the decision to move away from tiles, but wall panels are an excellent alternative.
Here are a few reasons why you should consider choosing tile effect wall panels for your home or even your business.
Panels are 100% Waterproof
For those of us who have had tiles in our bathrooms, the grout in between your tiles is the bane of our lives when it comes to cleaning. While the tiles can be cleaned with a little bit of elbow grease, the grout is susceptible to mould and damp - leaving you with a regular struggle to clean and despite this it always returns. And this is where Bathroom Cladding or Wet Wall Panels are head and shoulders above tiling - they are water resistant and no grout is needed.
Our Wall Panels are 100% waterproof, which helps to protect the wall behind the panels from mould and mildew. Whatever design you are after, our panels come with a tongue and groove system that allows you to connect the panels with ease into place, creating a seal and for further protection we recommend dabbing a bead of silicone between your panels to give yourself that complete peace of mind. This will seal any gaps that there may be and give you 100% protection.
And all that is then needed is a simple wipe down of the panels. No need to use harsh household chemicals, no need to scrub, no need to break your back trying to get the mould and mildew off grout, and certainly no need to invest in grout pens to create an aesthetically pleasing look knowing that the mould and mildew is still there behind the false facade.
Panels are more cost-effective
As mentioned earlier, the average cost of tiling a bathroom is around £50 per square meter - excluding the tiles, and other materials needed. For a more cost-effective option, our tile effect wall panels will give you the look that you are after without the additional expense. At Wet Walls & Ceilings, our PVC tile effect wall panels cost between £69 to £79 for a pack of four panels, with each panel measuring 2650mm long by 250mm wide and either 5mm or 8mm thick - with other size options available.
We also have Plywood Tile Effect Wall Panels by Fibo, these are made from 7 layers of birch veneer with a high pressure moisture barrier and a 25-year warranty on all their panels. These cost up to £139.95 for one panel, measuring 600mm wide by 240cm long by 10mm thick.
Panels are easy to install
Installing Wall Panels is far easier than tiling your space. Anyone with a decent knowledge of DIY can install panels, while to ensure a professional finish, tiling is expensive and if you are working to a budget it is not always an option to hire a tradesperson to do it as labour costs invariably match or even surpass the cost of materials. 
Tile effect bathroom wall panels are quick and easy to install yourself. All you need is your choice of panels, a small handsaw or jigsaw with a fine blade, adhesive, and any trims to complete the look.  
Panels can be installed over existing tiled walls
You can install wall panels over existing tiled walls - but this all depends on the clearance you have behind taps and around the bath or shower areas. However, if you are concerned about removing your tiles and the state of the walls after their removal than fitting our cladding over existing tiles is an option to consider. 
Our panels come in 5mm, 8mm, and 10mm thickness' so before you purchase any please make sure that if you are indeed going to panel over an existing tiled wall that you select the correct thickness of panels to suit your needs.
Easier to clean than tiles
For those of us who have tiled bathrooms, the headache of cleaning grout and getting rid of mould and mildew is a nigh on impossible task. But with tile effect wall panels, you avoid the messy grouting and cleaning between the tiles. Simply wipe down your wall panels with warm soapy water for an instant clean. No need to use harsh household chemicals or abrasive clothes or sponges. Our decorative wall panels create that perfect look without the hassle of needing to spend hours cleaning them.
There are certainly positives when it comes to tiles also with the range of styles endless. But at Wet Walls & Ceilings, we believe that no matter your budget or your style that our range of wall panels is the way to go.