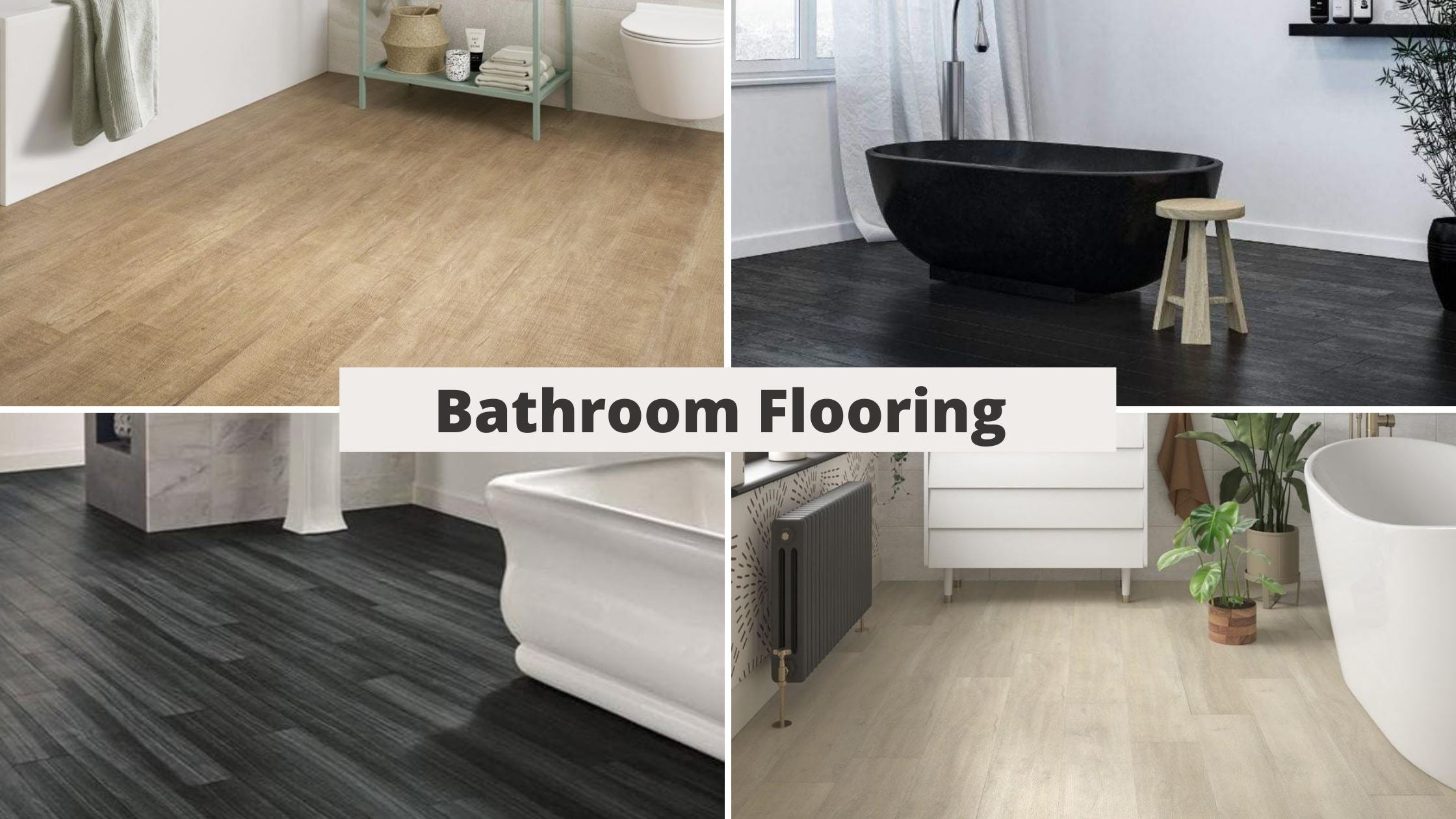 Looking for bathroom flooring that looks good and does the job? Our vinyl flooring is 100% waterproof, unlike a lot of laminate that is out on the market, which makes it ideal for using in bathrooms and kitchens. We have a wide range of wood effect flooring and stone/concrete effect tiles suitable for any room in your house.
This blog explores the bathroom vinyl flooring available at Wet Walls and Ceilings and why vinyl is the best flooring for bathrooms.
Why Vinyl?
The Vinyl flooring Wet Walls and Ceilings stock is easy to fit, 100% waterproof, durable and easy to clean. Vinyl Click Flooring (LVT) emulates the look and feel of real wood and stone flooring without the added cost, extra maintenance required or risk of damage. Unlike real stone or wood, LVT is abrasion and impact resistant, as well as resistant to household chemicals and cigarette burns. But most importantly, LVT looks great!
We have hand selected some of our favourite products we stock from our wood effect flooring and stone/concrete effect floor tiles that are perfect for using in bathrooms.
Wood Effect Bathroom Flooring
Now, we all know that real wood floorboards look great but they aren't the most practical. For the cost of real wood and its susceptibility to damage, it's just not worth it. With wood effect vinyl click floor tiles, you're getting the same look and feel of real wood for a fraction of the price and with many more practical benefits.
Our ClickLux luxury vinyl flooring tiles are made from rigid SPC (Stone Polymer Composite). This state of the art technology is the next generation of Luxury Vinyl Tiles. With no gluing or special preparations required beforehand, the vinyl tiles or planks simply lock together and can even sit on top of your existing flooring.
Limed Oak
If you are looking to create a clean and dreamy bathroom aesthetic, then the Limed Oak Vinyl Click Floor Tile is the perfect choice. The white washed look of these planks will help create a bright, open and welcoming space. Pair these planks with any interior to create a classic and contemporary look.
Black Oak
If you are after a more dark and dramatic look, the Black Oak Vinyl Click Plank is ideal. The versatile and stylish black oak is simple yet effective and will look great in traditional and modern home designs alike.
Warm Maple
Featuring warm golden tones and a delicate grain, the Warm Maple Vinyl Click Floor tile emulates realistic and authentic wood that will look stunning in any room in your home. Create a seamless look by using it from room to room and make your house a home.
Stone/Concrete Effect Bathroom Tiles 
Stone/concrete effect LVT are a great alternative to tiles. Featuring stone, concrete, marble and slate effects, you can really transform your bathroom with LVT. Unlike ceramic and porcelain tiles, vinyl tiles or planks simply just lock together which means there is no special preparations needed beforehand and, more importantly, no grout! This makes vinyl really easy to maintain and keep clean from dirt and mould. LVT can even sit on top of your existing flooring. It's a win-win really!
Staffa Graphite Concrete 
The authentic concrete effect on the Staffa Graphite Concrete Vinyl Click Tile is ideal if you love that industrial look. The cool grey tones and aged look will give your bathroom a classic and contemporary look. Try pairing with metal accent colours and neutral soft furnishings and wall panels to add warmth to your space.
Dark Grey Slate
The Dark Grey Slate Vinyl Click Tile is a classic. Dark grey interiors are hugely popular in todays home interior market and will give your bathroom an atmospheric look and feel. The modern and industrial tiles will look great in a contemporary bathroom interior paired with a monochrome colour palette.
Black Diamond
Perfect for adding a touch of sparkle, the Black Diamond Vinyl Click Tile is the missing piece for creating a striking bathroom design. The subtle speckled silver finish will help illuminate light and give your bathroom a sophisticated and elegant feel. Try pairing with Corton Elements Multipanel Wall Panels to create a dark, dramatic and sophisticated look.
Love what you see? Why not explore our full range of flooring here and find the perfect solution to your bathroom flooring!