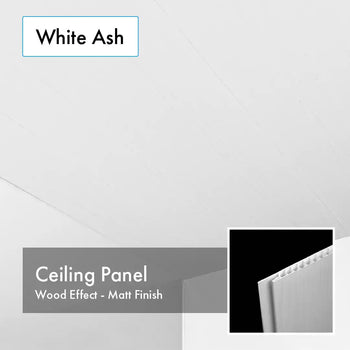 The White Ash 5mm Thick Ceiling Panels feature a stunning wood effect making these ceiling panels striking and unique. Wood effect panels have been used in homes for centuries making these ceiling panels utterly timeless. The White Ash 5mm Thick Ceiling Panels are easy to fit with tongue and groove joints for that sleek and flawless finish to the grand redesign of your bathroom area.
The White Ash 5mm Thick Ceiling Panels are easy to maintain and keep clean with their wipe-clean surface. These ceiling panels can also be used as wall panels and feature top of the range insulation and soundproofing qualities.
Panel Style: Wood Effect
Width: 25cm
Length: 270cm
Panels per Pack: 4
Area Covered (Sqm): 2.7 square metres per pack
Thickness: 5mm
Surface Finish: Matt
Material: High Impact PVC
Waterproof: Yes
Suitability: Walls & Ceilings
Tongue and groove panels provide a seamless finish with tight, almost invisible joints
Install on Ceilings
Excellent Insulation and Soundproofing
Can be installed Horizontal and/or Vertical
100% Waterproof PVC core
Class 1 Fire rated - suitable for commercial and domestic use
Suitable for both wet and dry areas including shower enclosures, bath surrounds, wet rooms, and utility rooms.
Non-porous, hygienic, mould-free
Virtually maintenance free wipe-clean surface
No wet trades required
Keep your wet wall panels in tip-top condition with a minimal amount of cleaning. Our wall panels can be cleaned using normal soap, water, and a soft cloth. You can also use a non-scratch liquid cleaner.
On a day-to-day basis or after every use, rinse the panels and then clean off the excess water with a soft cloth and remove any remaining water using a high quality microfibre cloth. This will help to prevent the build up of residue and limescale. Be particular attentive around any exposed sealant areas, these should be wiped clean to prevent the build-up of dirt.
Abrasive cleaner should never be used. High acidic cleaners should also be avoided as over time they may cause discolouration or damage to the surface of the panels. Do not allow nail varnish, spirits, toilet cleaners or bleach to come in to contact with the panel's surface. If you do this will null and void your warranty.
White Ash 5mm Thick Ceiling Panels
£19.95 for delivery of all Mainland UK orders under £299
FREE Mainland UK Delivery for all orders £299 or more
For delivery charges for other UK regions please check out our Delivery & Returns Page
All Mainland UK orders are despatched using our own dedicated delivery vans or a national courier
Samples are priced at 99p to cover Postage & Packaging. Sample orders are non-returnable
100 days hassle-free Returns Policy. Terms & Conditions apply
Multipanel return orders will incur a 20% re-stocking fee
FIBO Wall Panel return orders will incur a 30% re-stocking fee
Multipanel & FIBO Wall Panels are available for delivery only. Click & Collect not available