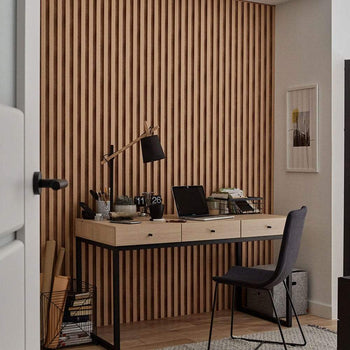 Linerio Slatwall panels come in three variants which differ in the width and depth of the slats. Linerio panels owe their unique properties to the material from which they are made. The panels are manufactured using polystyrene which is covered with hot stamp print. Polystyrene is a modern material that is 100% recyclable and 100% waterproof. It is lightweight, durable, and easy to clean. This means that Linerio can be installed even in more demanding areas, such as the hallway, work area, or the kitchen as well as the bathroom.

Thanks to the material and its spatial structure, the panels help to soundproof the interior and eliminate reverberation and echo in larger rooms. The installation of Linerio panels is quick and easy. They are mounted using adhesive and can be easily cut to the desired size using a saw or jigsaw.

PACKAGE DEAL OPTION - 1m wide Feature Wall Package
12 x Linerio L-Line Wood Effect Slatwall Panels
1 x Linerio Left Profile Trim
1 x Linerio Right Profile Trim
Panel Style: Wood effect
Size: 122mm x 2650mm
Panels per Pack: 1
Area Covered (Sqm):
Thickness: 21mm
Surface Finish: Matt
Material: Extruded XPS Polystyrene
Suitability: Walls & Ceilings
Tongue and groove panels provide a seamless finish with tight, almost invisible joints
Install on Walls and Ceilings
100% Waterproof
Excellent Insulation and Soundproofing
Quick installation
Can be installed Horizontal and/or Vertical
100% Recyclable
Lightweight
Virtually maintenance free wipe-clean surface
No wet trades required
Before installation, the panels should be left in the room where they will be installed in order to acclimatise with the room temperature.
Linerio L-Line Wood Effect Slatwall Panel
£19.95 for delivery of all Mainland UK orders under £299
FREE Mainland UK Delivery for all orders £299 or more
For delivery charges for other UK regions please check out our Delivery & Returns Page
All Mainland UK orders are despatched using our own dedicated delivery vans or a national courier
Samples are priced at 99p to cover Postage & Packaging. Sample orders are non-returnable
100 days hassle-free Returns Policy. Terms & Conditions apply
Multipanel return orders will incur a 20% re-stocking fee
FIBO Wall Panel return orders will incur a 30% re-stocking fee
Multipanel & FIBO Wall Panels are available for delivery only. Click & Collect not available