Kerradeco Wall Panels Buying Guide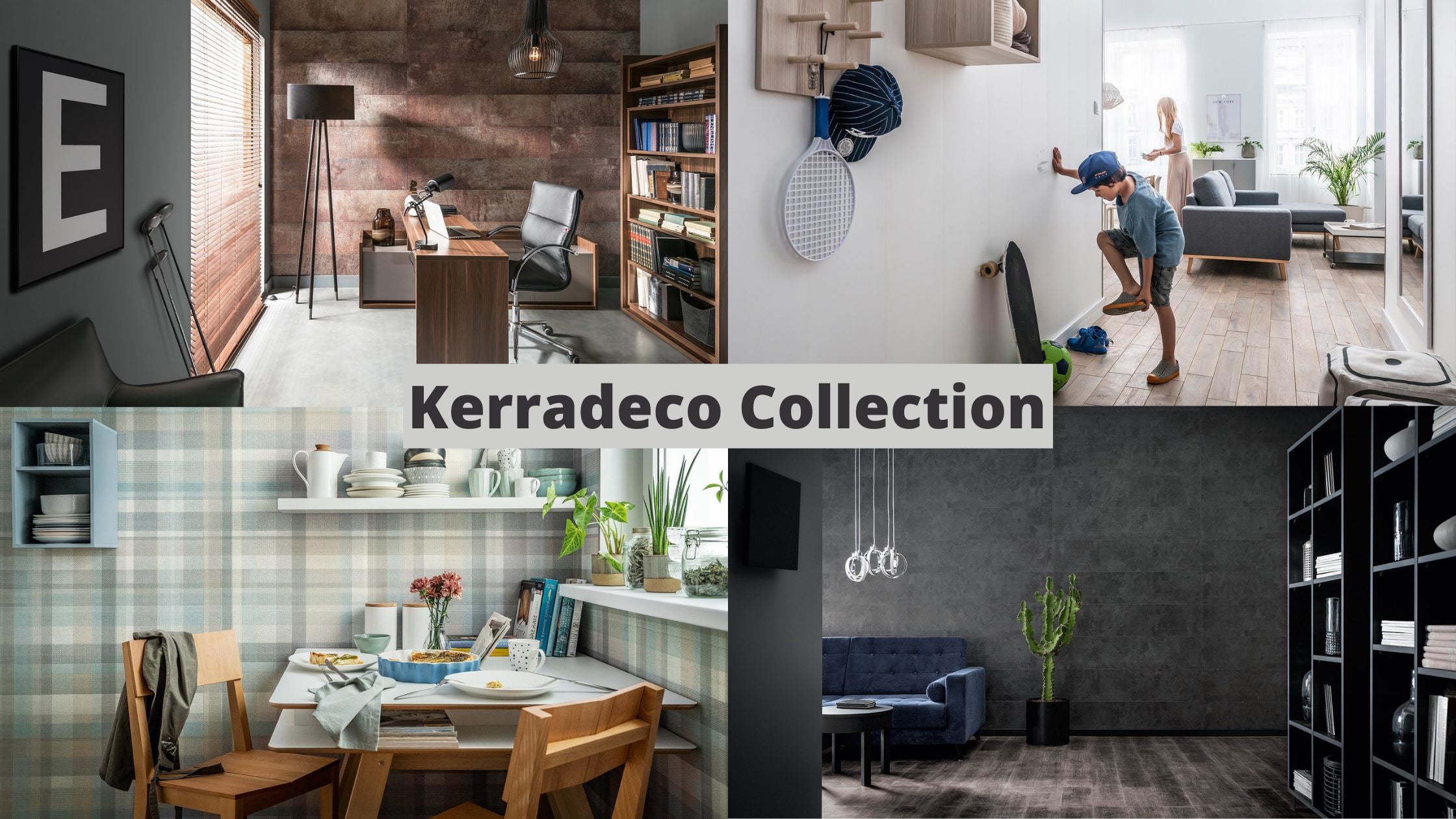 Whether you're thinking about giving your home-office, hallway, living or dining area a post-lockdown glow up, our beautiful collection of designer Kerradeco Wall Panels have got you covered! Perfect for your home or your business, using Kerradeco on your walls is a great way to enhance a space and give it a fresh, modern look. Kerradeco is made from recycled material and is 100% recyclable. It is eco-friendly and is one of the greenest wall systems on the market. 
Kerradeco is a solid core high quality decorative internal wall panel made from multi-layered polymer material, and enriched with mineral additives. They are also non-flammable, impact, UV and moisture resistant, with enhanced soundproofing and insulation. This makes Kerradeco a great alternative to drywall, ceramic tiles, wallpapers and paints. With plenty to choose from, from simple neutrals to jazzy patterns, achieve your desired look with our Kerradeco Wall Panels and transform your living space.


Loft Rusty
Whilst lockdown may be coming to an end soon, it is looking likely that most people will be working from home for a while. Create a rustic, stylish and homely home-office vibe with our Loft Rusty Kerradeco Wall Panels. Use on a feature wall in your space and create an authentic loft-style look with the rusty tones in each panel. The warm colours will open up your room and create a welcoming atmosphere. Take a look at our Rusty Kerradeco Wall Panels here and transform your home or office for post-lockdown. 
Stone Ivory
The calming neutral tones of the Stone Ivory Kerradeco Wall Panels are guaranteed to open up your space. A timeless classic, the Stone Ivory will provide the perfect backdrop to any room and make your accent colours pop. Don't worry about getting marks on the wall because unlike paints and wallpapers, Kerradeco wall panels are waterproof and easy to clean. They are also easy to install and provide a cost effective premium finish, which makes them the perfect choice for your home. Brighten up your living space with the Stone Ivory Kerradeco Wall Panels. Order a sample here to see how it'll look in your chosen space.
Stone Anthracite
Anthracite is the new black and with the Stone Anthracite Kerradeco Wall Panels, you can create a high quality premium look in your home or office. The stylish near-black colour is softer on the eye compared to classic black and has earthy and chalky tones. The Kerradeco wall panels can be used round your whole room or as a feature wall. The dark grey colours in the Stone A
nthracite will look amazing contrasted with neutrals and whites as they will make those colours pop whilst toning down the brightness in the room.

 

Take a look at the Stone Anthracite Kerradeco Wall Panels
here
and give your space a trendy transformation.
Monstera
We know that everyone loves house plants, so why not really brighten up your space and add a splash of greenery with this amazing Monstera Kerradeco Wall Panel. The Monstera will look great in any space whether it's in a home, hotel room or cafe. This wall panel creates a jungle vibe and the calming green colour palette will give you the feelings of being at peace and relaxed. Use as a feature wall or be bold and fill the room with it, the Monstera Kerradeco is a crowd pleaser and will be appreciated in any space. Shop the Monstera Kerradeco Wall Panel here and order a sample to see it in flesh.

Terrazzo
Doing up a children's bedroom or just fancy a splash of colour in your kitchen or living space? The distinctive looking Terrazzo Kerradeco Wall Panel creates the same look as a classic Terrazzo tile without the added expense or maintenance required. The Terrazzo wall panel has a mosaic-like pattern featuring muted colours which will compliment any interior space. The neutrals amongst the subtle blues, greens, pinks and purples gives the wall panel a softer more gentle look. The Terrazzo is the perfect splash of colour needed to brighten up your chosen space without being too intrusive or in your face. Take a look at the Terrazzo Kerradeco Wall Panel here and give your room a glamorous makeover.
Blue Tartan
Looking for a striking feature wall whilst keeping things traditional? Create a modern cosy cottage vibe in your home, hotel or cafe with the Blue Tartan Kerradeco Wall Panel. The blue tartan features muted blues and browns, giving it a relaxing and comforting look. The Blue Tartan Kerradeco makes a great alternative compared to wallpaper as you do not have to worry about getting marks on it or ripping it when you take things off the wall. Pair the Blue Tartan with some beautiful wood effect interiors and imagine you're on vacation in a cottage in the highlands. Shop the collection here and order a sample to see how the Blue Tartan Kerradeco would look in your chosen space.
With a wide variety of neutrals, dark colours, wood effects and patterns, take a look at our full Kerradeco collection
here
and transform your home with the easy-to-use, convenient and effective wall panels.